BMHF Stakeholder Meetings
The BMHF holds regular stakeholder meetings to discuss its work, anyone that has an interest in the BMHF can attend to make a valuable contribution.
If you would like to know future meeting dates, suggest agenda items for discussion or would like to present at our meetings please liaise with Shamsur Choudhury on shamsur@bangladeshimentalhealth.org
Upcoming Events and Workshops
Workshops/ Training/ Events – September – December 2019 
We have organised mental health awareness workshops, community mental heath champions training and events in different areas of Tower Hamlets for the coming months , please refer to attached flyers below for more information.
If you are interested in attending the workshops, training or would like more information please contact Shamsur Choudhury on 0771 607 8840 or email: shamsur@bangladeshimentalhealth.org
Community Event
Community Mental Health Awareness Day 2019 – Mental Wellbeing and Importance of Family Support.
Event Details:
Date: Thursday 10th October 2019, Time: 1-3pm, Venue: Harford Street Multicentre (adjacent to Harford Street Health Centre), 115 Harford Street, London E1. Please see attached Flyer for more information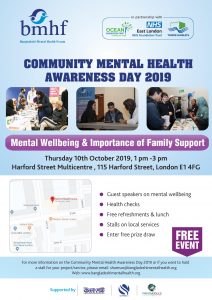 Workshops for residents in Whitechapel/ Shadwell/ Bethnal Green Area: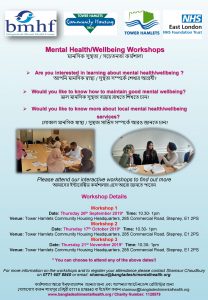 PDF Poster: THCH Mental Health Workshop Poster 2019 – Final
Workshops for residents on the Ocean Estate (Stepney/ St Dunstan/ Limehouse)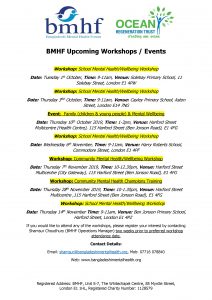 PDF Poster:BMHF Upcoming ORT Workshops 2019